Ronald Sarson doesn't consider himself to be very lucky.

After all, the retired real estate appraiser from Herndon, Va., has only won two cars, eight trips to California, a trip to the Super Bowl, two complete sets of golf clubs, a trip to the Bahamas and a week in Tahiti, just to name a few examples.

Many might consider such bounty to be pretty lucky. But not Sarson. The 64-year-old father of two says he's the unlucky one in the family.

``I put [my wife and lucky son] in contests because I know their chances are better," he says. ``I put the unlucky son in five times as many contests and the [lucky] one wins more."

To support his theory, Sarson says his lucky son won a $32,000 powerboat and the unlucky one had to settle for a free, seven-day cruise Caribbean cruise.

It would be nice to be so unlucky.

According to Sarson, however, winning isn't as much about luck as hard work.

Sarson devotes 50 hours a week to finding and entering contests and spends up to $8,000 per year on postage stamps.

``I buy a handful of 500 stamp [rolls] when I go to the post office," he said.

Though devoting so much time and money to games of chance may seem excessive, Sarson is far from unique.

Thousands across the country have made full-time hobbies out of entering and winning sweepstakes.

They call themselves Sweepers and have formed clubs nationwide, published newsletters and Web sites and flock to annual Sweepers conventions.

Sarson is a member of a club called the Northern Virginia Fortune Seekers, which meets monthly at a local restaurant to network, drop off prize entries and share tips about hot local contests.

It's a fun, harmless and often rewarding hobby on which participants easily can become hooked, Sweepers say.

``I think basically it's the winning. Even a jacket or baseball hat or something. It is exciting," said group member Denton Larson, 62, of Annandale, Va. ``I look forward to the mailman coming every day and the UPS truck. I look out the window to see if he will stop."

Larson, a semi-retired controller with the Agency for International Development, stumbled into sweepstaking about 10 years ago while searching for a cheap magazine to buy in response to a Publisher's Clearinghouse sweepstakes.

Though not a Sweeper at the time, Larson bought a subscription to a sweepstakes magazine called Contest Newsletter.

He never heard from Publisher's Clearinghouse but entered and won a few of the newsletter's smaller sweepstakes.

Larson then tried his luck with local area contests and within a few months had won a trip to the Sugar Bowl.

He had become a Sweeper.

Larson has since brought home $25,000 cash, a Chevrolet Monte Carlo, a Geo Tracker, a new kitchen, a set of tires, two barbecue grills and approximately 10 trips.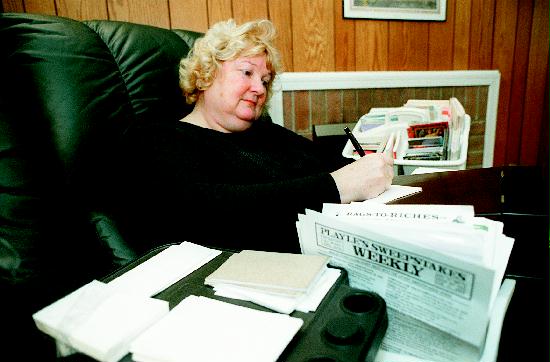 Amy Taylor/Journal
Anne McCunney of Fairfax, Va., began entering sweepstakes three years ago when she entered a giveaway contest at a bridal fair. The Junior high school teacher ended up winning her daughter's rehearsal dinner, a queen-size bed and a vacuum cleaner. She now spends about 20 hours a wek during the summer and as many as she can spare during the school year to entering contests. Last Year she won about $15,000 worth of prizes. And last month she won a new state-of-the-art computer system. "They say it takes patience, persistence and postage. And I add positive thinking," McCunney said.
Like many Sweepers, Larson puts in about three hours a night filling out entry forms and spends roughly $5,000 per year on postage.
``It's fun to win, No. 1. But it's also a fun hobby and we have met lots of interesting people," he said.
Junior high school teacher Anne McCunney of Fairfax, Va., caught the sweepstakes bug three years ago while shopping for her daughter's wedding.
McCunney noticed many bridal fairs held giveaways and thought she might as well enter.
It was a good idea. She ended up winning her daughter's rehearsal dinner, a queen-size bed and a vacuum cleaner.
McCunney went on to try a few home and garden fairs and came home with a top-of-the-line grill.
She now tries to squeeze in about 20 hours a week during the summer and as many as she can spare during the school year to entering contests.
Last year she won about $15,000 worth of prizes. Last month she won a new state-of-the-art computer system.
``I have won a number of trips that I have given to my kids...I won $1,000 for my school," she said. ``[I have won] things I wouldn't have been able to afford otherwise and that is what makes it worthwhile."
McCunney considers herself lucky but agrees that being a successful Sweepstaker is about hard work.
``They say it takes patience, persistence and postage. And I add positive thinking," McCunney said.
The two basic keys to winning, according to Sweepers, are to follow the rules closely and enter as many times as allowed.
Following contest guidelines is critical because rules are as varied as they are numerous. Contestants can be disqualified for anything from sending the wrong size envelope to not filling in all the blanks to entering more often than permitted.
If the rules allow, however, successful Sweepers often send hundreds of entries to the same contest.
Sarson won a year's supply of chocolate after mailing 100 entry forms, he said.
Beyond the basics, beginners can increase their chances of winning with a few simple tricks.
First, scan grocery and drug stores for local or small, regional contests that have fewer contestants than national promotions.
Also look for contests that award prizes at each of the stores offering the promotion.
Sarson won two $100 gift certificates from different stores during the same contest.
When entering local contests, however, Sweepers are divided on the value of using large or colored envelopes to draw attention.
Some believe colored envelopes disqualify contestants from strictly regulated contests and that larger sweepstakes don't even look at the envelopes.
Others argue attention grabbing entries are helpful in local contests where winners likely are drawn from a box by a store employee.
``Occasionally I will send a colored envelope thinking it wouldn't do any harm but I don't have any faith in that," Sarson said.
Sweepers also recommend contests with a large number of rules.
``The more hoops you have to jump through...the better the odds," McCunney said. ``A lot of people don't follow rules."
Contests requiring athletic or artistic skill also have better odds than general entrance sweepstakes.
One of the best tricks for winning is to participate in second-chance drawings for contests that originally offered game pieces on soda bottles and fast-food containers.
Winning game pieces often are thrown away and the prize is awarded later through a mail-in contest with fewer contestants.
Larson's $25,000 cash prize was part of a second-chance drawing.
``And to think someone threw that winning game piece away," he said.
Sweepers also suggest surfing the Internet for newsletters and clubs that offer information on contests with the best odds.
Games with multi-million-to-1 odds such as state lotteries, aren't worth the effort, Sweepers say. It's OK to play those games, but don't spend much time or money trying to win, they say.
The Virginia Lottery, for instance, gave away $301.4 million in 1999, but the public spent $597 million trying to win that money, according to statistics provided by the Virginia State Lottery Department.
Sweepers also avoid contests requiring contestants to divulge personal information or sit through high-pressure sales presentations.
Vacation time-share companies often offer vacation packages if winners will sit through a sales pitch.
Larson says he doesn't mind the pitch and occasionally will accept the prize as part of a previously scheduled trip.
Sarson and McCunney, however, say a couple of nights lodging isn't worth the stress of high pressure sales.
Taxes are another concern for beginning Sweepers who start to have some luck. Winners are required to pay tax on fair market value as determined by the sweepstakes company.
Vacations and arbitrary prizes such as dinner with a celebrity are often overestimated by thousands of dollars, Sweepers say. A $150 dinner with a Washington Redskin, for instance, might be valued at $10,000 and the winner would be liable for the full tax bill.
Winners should challenge the sweepstakes company if they feel the value of a prize has been overestimated.
Sarson once won a set of tires valued by the sweepstakes company at $1,200, which retailed in a local store for $600. The company lowered its value and Sarson's tax bill, after he brought the discrepancy to the company's attention.
And the final Sweepers' tip is to remember entering contests is just a game.
``It's something that you play at. You could never support yourself," McCunney said.
But, they say, if you have the time and postage, nothing beats the thrill of winning.
Or, as McCunney puts it, ``The harder I work, the luckier I am."